*Image: Stadtarchiv Dornbirn, Sign. 4889
At age 24, David Fussenegger founded his business in the textile city of Dornbirn.
In 1835, the David Fussenegger company was the third-largest employer in the region of Vorarlberg. David Fussenegger received a permit for the creation and processing of cotton. Since 1832, the company has been focusing on processing cotton and cotton-blended yarns.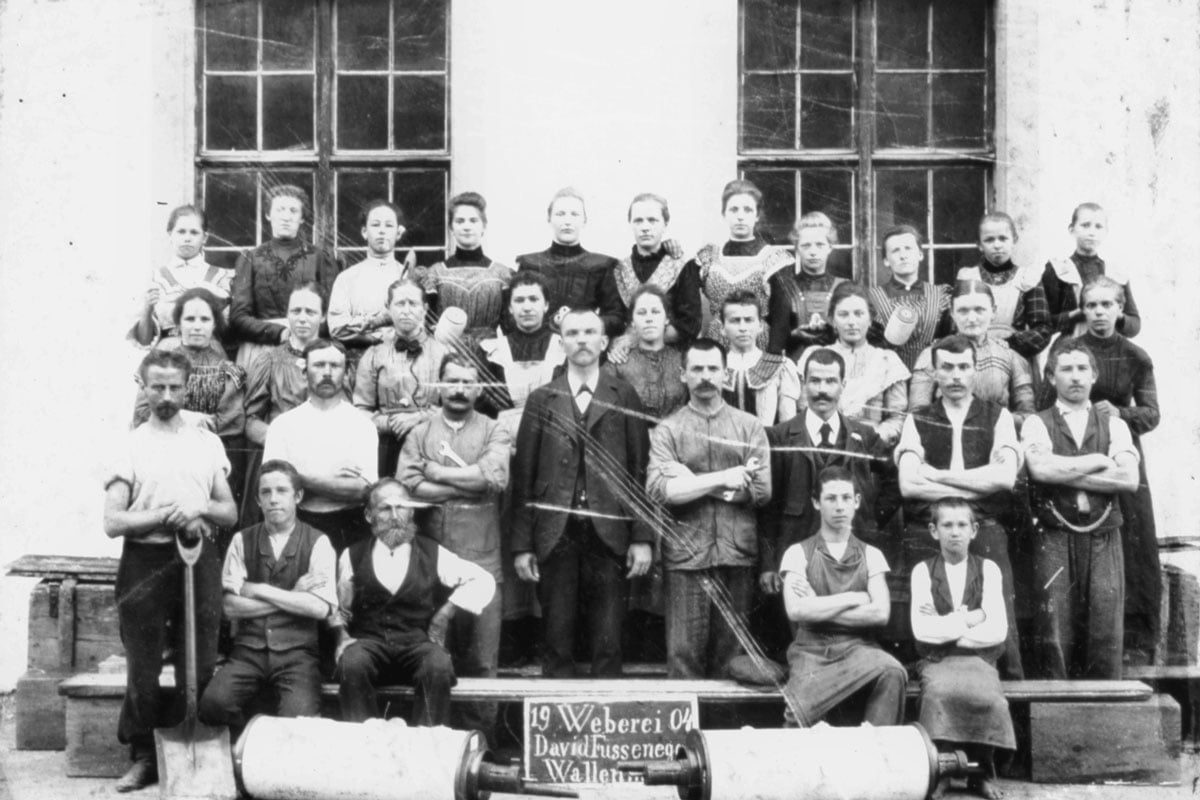 Industry 1.0:
After purchasing the factory in the Wallenmahd district in Dornbirn, one-hundred mechanical looms and brushing-machines were purchased in 1866. A large pond and water wheel with a transmission belt were used to drive the machines. The Roscher looms were used for 80 years, up until 1945.
Catastrophic fire:
At the end of World War II, a massive fire destroyed the entire yarn storage in 1945. The company owner had issues continuing the company. However, thanks to befriended textile companies from the region, the production of Streifendamast (a straight pattern) permitted the continuation of the company.
The Boom-Years:
In 1966, generous investments were made to build a new weaving-mill in Wallenmahd, Dornbirn. The sale of the building located at the Schillerstraße 5, also in Wallenmahd, Dornbirn permitted the construction of a new high-rack warehouse in 1985. In 1988, Graduate Degree Klaus Ladstäter-Fussenegger took over management of the company, now in its 7th generation, from his father, Engineer Herbert Ladstätter. The manufacturing company was family-owned for nearly 180 years.
Reinvention:
Early 2011, the company was handed over to the perennial employees Jürgen Spiegel and Gottfried Wohlgenannt. Since then, the two entrepreneurs and managing directors continue the longstanding tradition of the family business, leading the company with prudence and success.
Milestone:
In 2014, another milestone was achieved to continue the nearly 200-year-old history of David Fussenegger. Investment in most modern manufacturing halls, high-rack storage, and office were made at the new company premises located at Unterhub 33 in Altach. At the same time, the most modern Jacquard and weaving machine technology was purchased.
Our team and senior management are inspired and proud of our longstanding history. Allow your home to become enchanted, with feel-good guarantee.